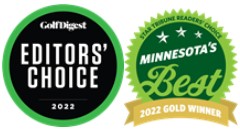 Watch installation of two new chairlifts at Giants Ridge in 2017!
---

Nearly 160,000 individuals receive care from NSP patrollers each year.
What is a National Ski Patroller?

A brief history of the NSP

Are you up to the challenge?
How to become a ski patroller.

We also need Nordic and bike patrollers!
What is Nordic patrolling?
What is Bike patrolling?

A day in the life of a ski patroller
(Offered by our friends in the Canadian Ski Patrol.)
We are Outstanding !!!
Not only did we win the 2017-2018 Western Region Outstanding Alpine Patrol Award!... We also have the 2017-2018 Outstanding Patrol Director!
Dave Markwardt won the prestigious, and equally competitive, 2017-2018 Western Region Outstanding Patrol Director Award!

www.grpatrol.org

Patrollers wanted!

JOIN THE GIANTS RIDGE SKI & BIKE PATROL

Our current NSP Outdoor Emergency Care course* is underway. However, we would still like to hear from you. and we would really like for you to join us.
(*EMTs and Paramedics are welcome to test out of the OEC course.)
Please e-mail our Giants Ridge Patrol Representative at
giantsridgepatrolrep@gmail.com
about ski and bike patrolling at Giants Ridge!

Take a look at
< < < the NSP Recruitment Video and
the NSP Young Adult Program Video > > >
They are cool!

GR Ski Patrol
Telephone Numbers
Break Room: 218-865-8019
Main Office: 218-865-8000


Mining Supports Us.
---
Member Login
"I just wanted to send you a quick note to let you know how impressed I have been with every aspect of Giants Ridge this winter.
Snow and grooming: Excellent
Food: Excellent
Friendly and Helpful
Lift Attendants: Excellent
Ski Patrollers: Excellent"

Jeff Jacobson, ICMA-CM
City Administrator (2/25/2020}

Thank you, Jeff !