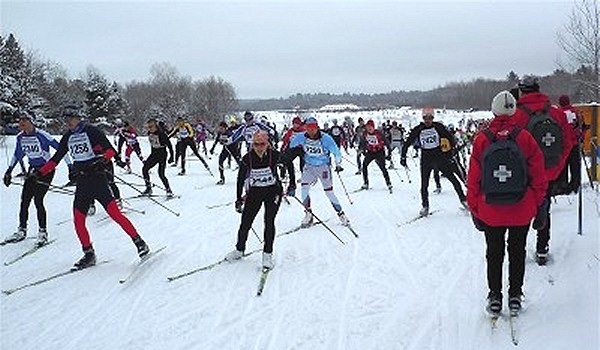 What Is Nordic Patrolling?
Jeff Schmidt, Central Division Nordic Advisor, National Ski Patrol
Founded in 1938 by "Minnie" Dole, the National Ski Patrol System (NSPS) has developed at the same rapid pace as the ski industry in America. Today, Nordic patrols are an integral part of the 25,000 member NSPS serving the skiing public.
Our objective is to provide ski areas and organized tours with trained volunteers capable of performing services to help make these facilities and tours safer and more enjoyable for skiers. NSPS patrollers provide their services with skill, diplomacy and unselfish dedication. Ski patrolling is skiing with a purpose.
Can You Qualify?
Do you enjoy working with the public and helping people?
Do you want to sharpen your skiing and first aid skills?
Would you like to use those skills to make cross country skiing safer and more enjoyable?
Do you enjoy being challenged by a variety of ski conditions and situations?
Would you like the opportunity to share that challenge with others?
Can you remain calm and function well in an emergency situation?
Do you have the time to commit yourself to a schedule of patrolling duties during the ski season?
To become a Nordic Patroller with the NSPS you must:
Be at least 15 years of age
Have passed the current Outdoor Emergency Care (OEC) course as administered by the National Ski Patrol
Have a current American Red Cross or American Heart Association Cardio-Pulmonary Resuscitation (CPR) card
Have at least intermediate skiing ability
Submit application to and be accepted by a NSPS patrol.
Pay the necessary NSPS dues
Have a good attitude toward helping other skiers
Soon after joining, assemble a patrol pack with basic first-aid, survival and equipment-repair items.
Patrol Training
Many men and women have joined the NSPS to take advantage of the high level of training available to patrollers. Nationally standardized training programs have been specifically developed for the NSPS by field experts and are taught by certified instructors. Some of the training is required, while other programs are elective and serve to move the student through various levels of skill.
Minimum training requirements:
Each year in the fall, you must take a First Aid Refresher for a minimum of 8 hours to review your first aid skills. This refresher renews your OEC card for the current season.
Each year in the fall, you must take a CPR Refresher for an average of 3 hours to review your cardio-pulmonary resuscitation skills. This refresher renews your CPR card for the current season.
Each year, before the start of the season, you must take an On-The-Trail Refresher to review your patrolling skills; orienteering, search and rescue, ropes and knots, toboggan handling and public relations. Often times these two refreshers are combined into a one-weekend program,
During the first year on the patrol, you will need to train in skiing and toboggan handling as well as fundamental outdoor skills. By the end of the first year, you will be tested on these skills with other patroller candidates.
Although the above is the minimum requirement, you may choose to further your skills by taking additional training available from your local patrol or through the NSPS. Patrollers are encouraged to undertake more advanced training, and opportunities are available to become course instructors.
Strongly recommended for new Nordic patrollers:
Attend a Western Region Nordic Workshop (usually held in February)
Enroll in one of the NSP Avalanche and Mountain Travel and Rescue courses